Chapter 3: Verbal Communication
Discuss how the process of abstraction and the creation of whole messages relate to language clarity.
Employ figurative and evocative language.
Identify strategies for using language ethically.
Have you ever gotten lost because someone gave you directions that didn't make sense to you? Have you ever puzzled over the instructions for how to put something like a bookshelf or grill together? When people don't use words well, there are consequences that range from mild annoyance to legal actions. When people do use words well, they can be inspiring and make us better people. In this section, we will learn how to use words well by using words clearly, using words affectively, and using words ethically.
Using Words Clearly
The level of clarity with which we speak varies depending on whom we talk to, the situation we're in, and our own intentions and motives. We sometimes make a deliberate effort to speak as clearly as possible. We can indicate this concern for clarity nonverbally by slowing our rate and increasing our volume or verbally by saying, "Frankly…" or "Let me be clear…" Sometimes it can be difficult to speak clearly—for example, when we are speaking about something with which we are unfamiliar. Emotions and distractions can also interfere with our clarity. Being aware of the varying levels of abstraction within language can help us create clearer and more "whole" messages.
Level of Abstraction
The ladder of abstraction is a model used to illustrate how language can range from concrete to abstract. As we follow a concept up the ladder of abstraction, more and more of the "essence" of the original object is lost or left out, which leaves more room for interpretation, which can lead to misunderstanding. This process of abstracting, of leaving things out, allows us to communicate more effectively because it serves as a shorthand that keeps us from having a completely unmanageable language filled with millions of words—each referring to one specific thing.[1] But it requires us to use context and often other words to generate shared meaning. Some words are more directly related to a concept or idea than others. If I asked you to go take a picture of a book, you could do that. If I asked you to go and take a picture of "work," you couldn't because work is an abstract word that was developed to refer to any number of possibilities from the act of writing a book, to repairing an air conditioner, to fertilizing an organic garden. You could take a picture of any of those things, but you can't take a picture of "work."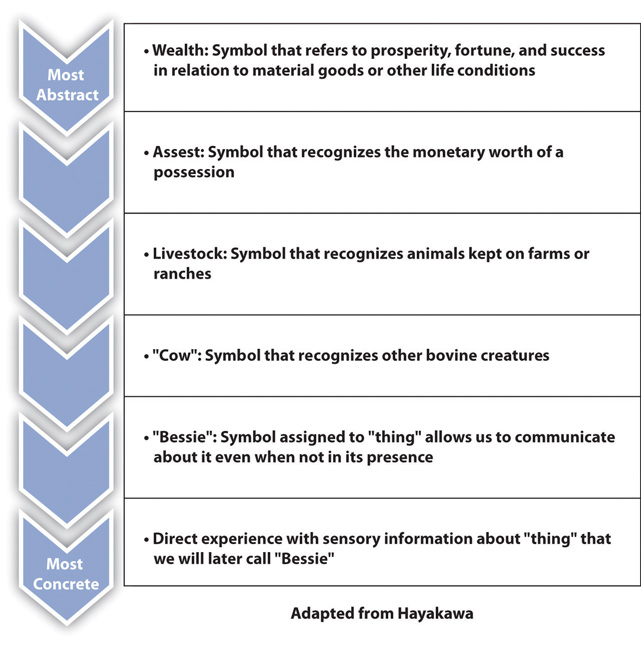 You can see the semanticist S. I. Hayakawa's classic example of the abstraction ladder with "Bessie the cow" in Figure 3.2 "Ladder of Abstraction".[3] At the lowest level, we have something that is very concrete. At this level we are actually in the moment of experiencing the stimuli that is coming in through our senses. We perceive the actual "thing," which is the "cow" in front of us (either in person or as an image). This is concrete, because it is unmediated, meaning it is actually the moment of experience. As we move up a level, we give the experience a name—we are looking at "Bessie." So now, instead of the direct experience with the "thing" in front of us, we have given the thing a name, which takes us one step away from the direct experience to the use of a more abstract symbol. Now we can talk and think about Bessie even when we aren't directly experiencing her. At the next level, the word cow now lumps Bessie in with other bovine creatures that share similar characteristics. As we go on up the ladder, cow becomes livestock, livestock becomes an asset, and then an asset becomes wealth. Note that it becomes increasingly difficult to define the meaning of the symbol as we go up the ladder and how with each step we lose more of the characteristics of the original concrete experience.
When shared referents are important, we should try to use language that is lower on the ladder of abstraction. Being intentionally concrete is useful when giving directions, for example, and can help prevent misunderstanding. We sometimes intentionally use abstract language. Since abstract language is often unclear or vague, we can use it as a means of testing out a potential topic (like asking a favor), offering negative feedback indirectly (to avoid hurting someone's feelings or to hint), or avoiding the specifics of a topic.
Definitions and Clarity
Knowing more about the role that abstraction plays in the generation of meaning can help us better describe and define the words we use. As we learned earlier, denotative definitions are those found in the dictionary—the official or agreed-on definition. Since definitions are composed of other words, people who compile dictionaries take for granted that there is a certain amount of familiarity with the words they use to define another word—otherwise we would just be going in circles. One challenge we face when defining words is our tendency to go up the ladder of abstraction rather than down.[4] For example, if I asked you to define the word blue, you'd likely say it's a color. If I asked you what a color is, you'd tell me it's a tint or characteristic of the appearance of a particular thing. To define more clearly, by going down the ladder of abstraction, you could say, "It's the color of Frank Sinatra's eyes," or "It's what the sky looks like on a clear day." People often come to understanding more quickly when a definition is descriptive and/or ties into their personal experiences. Definitions aren't useless, but they are usually best when paired with examples. You'll notice that I include many key terms and definitions in this book, but knowing some of the challenges of generating meaning through language, I also include many examples and narratives that come from real life. refers to specialized words used by a certain group or profession. Since jargon is specialized, it is often difficult to relate to a diverse audience and should therefore be limited when speaking to people from outside the group—or at least be clearly defined when it is used.
Creating Whole Messages
Earlier we learned about the four types of expressions, which are observations, thoughts, feelings, and needs. include all the relevant types of expressions needed to most effectively communicate in a given situation, including what you see, what you think, what you feel, and what you need.[5] are missing a relevant type of expression and can lead to misunderstanding and conflict. Whole messages help keep lines of communication open, which can help build solid relationships. On the other hand, people can often figure out a message is partial even if they can't readily identify what is left out. For example, if Roscoe says to Rachel, "I don't trust Bob anymore," Rachel may be turned off or angered by Roscoe's conclusion (an expression of thought) about their mutual friend. However, if Roscoe recounted his observation of Bob's behavior, how that behavior made him feel, and what he needs from Rachel in this situation, she will be better able to respond.
While partial messages lack relevant expressions needed to clearly communicate, include mixed or misleading expressions.[6] For example, if Alyssa says to her college-aged daughter, "It looks like you wasted another semester," she has contaminated observations, feelings, and thoughts. Although the message appears to be an observation, there are underlying messages that are better brought to the surface. To decontaminate her message, and make it more whole and less alienating, Alyssa could more clearly express herself by saying, "Your dad and I talked, and he said you told him you failed your sociology class and are thinking about changing your major" (observation). "I think you're hurting your chances of graduating on time and getting started on your career" (thought). "I feel anxious because you and I are both taking out loans to pay for your education" (feeling).
Messages in which needs are contaminated with observations or feelings can be confusing. For example, if Shea says to Duste, "You're so lucky that you don't have to worry about losing your scholarship over this stupid biology final," it seems like he's expressing an observation, but it's really a thought, with an underlying feeling and need. To make the message more whole, Shea could bring the need and feeling to the surface: "I noticed you did really well on the last exam in our biology class" (observation). "I'm really stressed about the exam next week and the possibility of losing my scholarship if I fail it" (feeling). "Would you be willing to put together a study group with me?" (need). More clarity in language is important, but as we already know, communication isn't just about exchanging information—the words we use also influence our emotions and relationships.
Evocative Language
Vivid language captures people's attention and their imagination by conveying emotions and action. Think of the array of mental images that a poem or a well-told story from a friend can conjure up. Evocative language can also lead us to have physical reactions. Words like shiver and heartbroken can lead people to remember previous physical sensations related to the word. As a speaker, there may be times when evoking a positive or negative reaction could be beneficial. Evoking a sense of calm could help you talk a friend through troubling health news. Evoking a sense of agitation and anger could help you motivate an audience to action. When we are conversing with a friend or speaking to an audience, we are primarily engaging others' visual and auditory senses. Evocative language can help your conversational partner or audience members feel, smell, or taste something as well as hear it and see it. Good writers know how to use words effectively and affectively. A well-written story, whether it is a book or screenplay, will contain all the previous elements. The rich fantasy worlds conceived in Star Trek, The Lord of the Rings, Twilight, and Harry Potter show the power of figurative and evocative language to capture our attention and our imagination.
Some words are so evocative that their usage violates the social norms of appropriate conversations. Although we could use such words to intentionally shock people, we can also use euphemisms, or less evocative synonyms for or indirect references to words or ideas that are deemed inappropriate to discuss directly. We have many euphemisms for things like excretory acts, sex, and death.[7] While euphemisms can be socially useful and creative, they can also lead to misunderstanding and problems in cases where more direct communication is warranted despite social conventions.
Polarizing Language
Philosophers of language have long noted our tendency to verbally represent the world in very narrow ways when we feel threatened.[8] This misrepresents reality and closes off dialogue. Although in our everyday talk we describe things in nuanced and measured ways, quarrels and controversies often narrow our vision, which is reflected in our vocabulary. In order to maintain a civil discourse in which people interact ethically and competently, it has been suggested that we keep an open mind and an open vocabulary.
One feature of communicative incivility is polarizing language, which refers to language that presents people, ideas, or situations as polar opposites. Such language exaggerates differences and overgeneralizes. Things aren't simply black or white, right or wrong, or good or bad. Being able to only see two values and clearly accepting one and rejecting another doesn't indicate sophisticated or critical thinking. We don't have to accept every viewpoint as right and valid, and we can still hold strongly to our own beliefs and defend them without ignoring other possibilities or rejecting or alienating others. A citizen who says, "All cops are corrupt," is just as wrong as the cop who says, "All drug users are scum." In avoiding polarizing language we keep a more open mind, which may lead us to learn something new. A citizen may have a personal story about a negative encounter with a police officer that could enlighten us on his or her perspective, but the statement also falsely overgeneralizes that experience. Avoiding polarizing language can help us avoid polarized thinking, and the new information we learn may allow us to better understand and advocate for our position. Avoiding sweeping generalizations allows us to speak more clearly and hopefully avoid defensive reactions from others that result from such blanket statements.
Swearing
Scholars have identified two main types of swearing: social swearing and annoyance swearing.[9] People engage in to create social bonds or for impression management (to seem cool or attractive). This type of swearing is typically viewed as male dominated, but some research studies have shown that the differences in frequency and use of swearing by men and women aren't as vast as perceived. Nevertheless, there is generally more of a social taboo against women swearing than men, but as you already know, communication is contextual. provides a sense of relief, as people use it to manage stress and tension, which can be a preferred alternative to physical aggression. In some cases, swearing can be cathartic, allowing a person to release emotions that might otherwise lead to more aggressive or violent actions.
In the past few decades, the amount of profanity used in regular conversations and on television shows and movies has increased. This rise has been connected to a variety of factors, including increasing social informality since the 1960s and a decrease in the centrality of traditional/conservative religious views in many Western cultures.[10] As a result of these changes, the shock value that swearing once had is lessening, and this desensitization has contributed to its spread. You have probably even noticed in your lifetime that the amount of swearing on television has increased, and in June of 2012 the Supreme Court stripped the Federal Communications Commission of some of its authority to fine broadcasters for obscenities.[11]There has also been a reaction, or backlash, to this spread, which is most publicly evidenced by the website, book, and other materials produced by the Cuss Control Academy.  Although swearing is often viewed as negative and uncivil, some scholars argue for its positive effects.[12] Specifically, swearing can help people to better express their feelings and to develop social bonds. In fact, swearing is typically associated more with the emotional part of the brain than the verbal part of the brain, as evidenced by people who suffer trauma to the verbal part of their brain and lose all other language function but are still able to swear.[13]
Accountability
The complexity of our verbal language system allows us to present inferences as facts and mask judgments within seemingly objective or oblique language. As an ethical speaker and a critical listener, it is important to be able to distinguish between facts, inferences, and judgments.[14] are conclusions based on thoughts or speculation, but not direct observation. are conclusions based on direct observation or group consensus. are expressions of approval or disapproval that are subjective and not verifiable.
Linguists have noted that a frequent source of miscommunication is , or the misperception of an inference (conclusion based on limited information) as an observation (an observed or agreed-on fact).[15] We can see the possibility for such confusion in the following example: If a student posts on a professor-rating site the statement "This professor grades unfairly and plays favorites," then they are presenting an inference and a judgment that could easily be interpreted as a fact. Using some of the strategies discussed earlier for speaking clearly can help present information in a more ethical way—for example, by using concrete and descriptive language and owning emotions and thoughts through the use of "I language." To help clarify the message and be more accountable, the student could say, "I worked for three days straight on my final paper and only got a C," which we will assume is a statement of fact. This could then be followed up with "But my friend told me she only worked on hers the day before it was due and she got an A. I think that's unfair and I feel like my efforts aren't recognized by the professor." Of the last two statements, the first states what may be a fact (note, however, that the information is secondhand rather than directly observed) and the second states an inferred conclusion and expresses an owned thought and feeling. Sometimes people don't want to mark their statements as inferences because they want to believe them as facts. In this case, the student may have attributed her grade to the professor's "unfairness" to cover up or avoid thoughts that her friend may be a better student in this subject area, a better writer, or a better student in general. Distinguishing between facts, inferences, and judgments, however, allows your listeners to better understand your message and judge the merits of it, which makes us more accountable and therefore more ethical speakers.
The symbolic nature of language means that misunderstanding can easily occur when words and their definitions are abstract (far removed from the object or idea to which the symbol refers). The creation of whole messages, which contain relevant observations, thoughts, feelings, and needs, can help reduce misunderstandings.
Affective language refers to language used to express a person's feelings and create similar feelings in another person. Metaphor, simile, personification, and vivid language can evoke emotions in speaker and listener.
Incivility occurs when people deviate from accepted social norms for communication and behavior and manifests in swearing and polarized language that casts people and ideas as opposites. People can reduce incivility by being more accountable for the short- and long-term effects of their communication.
Following the example in the ladder of abstraction, take a common word referring to an object (like bicycle or smartphone) and write its meaning, in your own words, at each step from most concrete to most abstract. Discuss how the meaning changes as the word/idea becomes more abstract and how the word becomes more difficult to define.
Decontaminate the following messages by rewriting them in a way that makes them whole (separate out each type of relevant expression). You can fill in details if needed to make your expressions more meaningful.

"I feel like you can't ever take me seriously."
"It looks like you've ruined another perfectly good relationship."

Find a famous speech (for example, at http://www.americanrhetoric.com) and identify components of figurative language. How do these elements add to the meaning of the speech?
Getting integrated: Review the section on using words ethically. Identify a situation in which language could be used unethically in each of the following contexts: academic, professional, personal, and civic. Specifically tie your example to civility, polarizing language, swearing, or accountability.
---
Specialized words used by a certain group or profession.
Messages that include all the relevant types of expressions needed to most effectively communicate in a given situation, including what you see, what you think, what you feel, and what you need.
Messages that are missing a relevant type of expression and can lead to misunderstanding and conflict.
Messages that include mixed or misleading expressions.
Swearing used conversationally to create social bonds or for impression management (to seem cool or attractive).
Swearing that provides a sense of relief as people use it to manage stress and tension, which can be a preferred alternative to physical aggression.
Conclusions based on thoughts or speculation, but not direct observation.
Conclusions based on direct observation or group consensus.
Expressions of approval or disapproval that are subjective and not verifiable.
A frequent source of miscommunication that involves the misperception of an inference (conclusion based on limited information) as an observation (an observed or agreed-on fact).